Cause for Canonization
Blessed Solanus Casey, beatified in 2017, is on the path to sainthood in the Roman Catholic Church. If canonized, Blessed Solanus would be the first American-born priest to become a saint.
Many favors have been reported due to the intercession of Blessed Solanus, both in his lifetime and following his death in 1957. The Vice-Postulator of the Cause for Canonization collects and tracks these favor reports. We invite the public to report any favors received to us.
Report a favor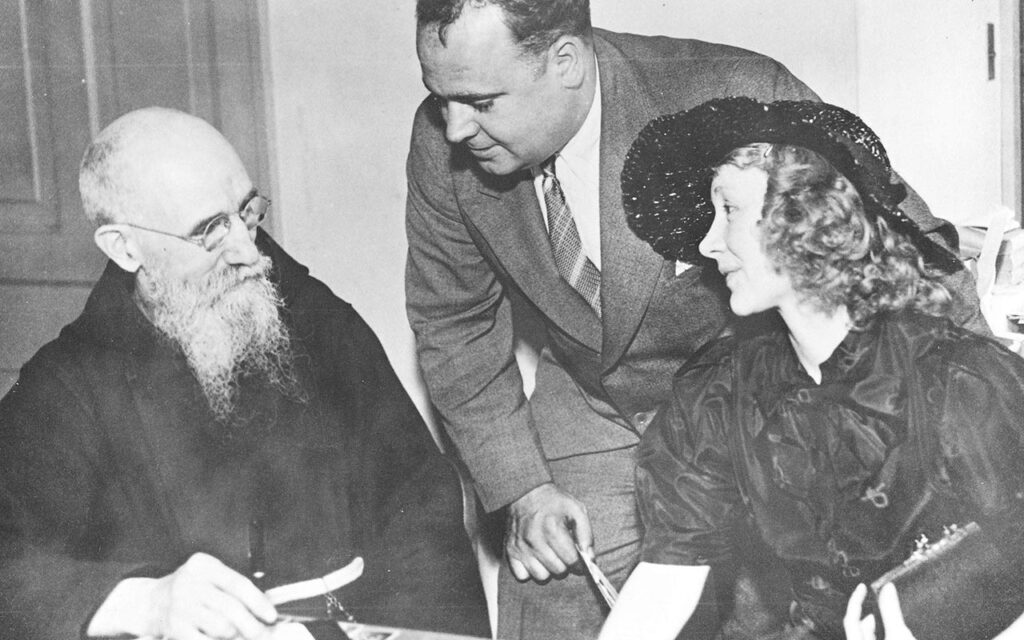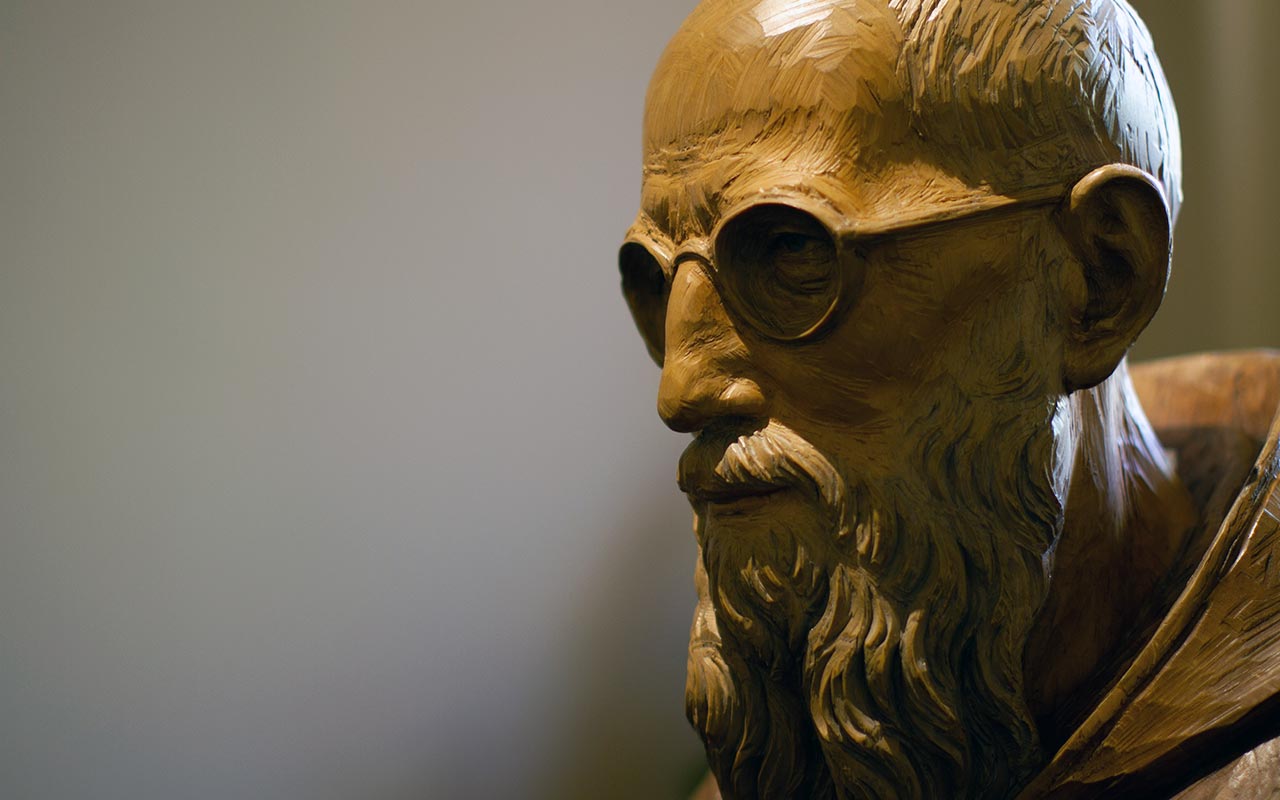 The Father Solanus Guild
In becoming a member of the Father Solanus Guild, you are keeping alive the inspiring memory of Blessed Solanus and bringing knowledge of his exemplary life to others. In addition, you are making possible the archiving of information about his life and work, and providing prayer, support and material assistance to the Vice Postulator for the Cause of Canonization of Blessed Solanus Casey.
Learn More
From the Vice-Postulator of the Cause for Canonization of Blessed Solanus Casey
Recent Blog Posts
March 30, 2023
Blessed Solanus Casey
I'll Take a Dozen!
A few weeks back a group of family members came to the Solanus Casey Center in Detroit. One of our friars, Br. Dan, greeted and welcomed them. They had a wonderful story to share.
Read More
Upcoming Events
Event Apr 05
Solanus Casey Center Lenten Series
The 2023 Solanus Casey Center Lenten Series returns every Wednesday in Lent beginning on March 1.
Details
Event Apr 06
Holy Thursday – Mass of the Lord's Supper
Join us for Mass of the Lord's Supper on Holy Thursday inside St. Bonaventure Chapel as part of the Sacred Triduum.
Details
Event Apr 07
First Friday Eucharistic Adoration
Join the Capuchin friars and the wider Catholic community in prayer and adoration of the Most Blessed Sacrament each First Friday of the month from 9:30 a.m. to 4:00 p.m. with noontime benediction.
Details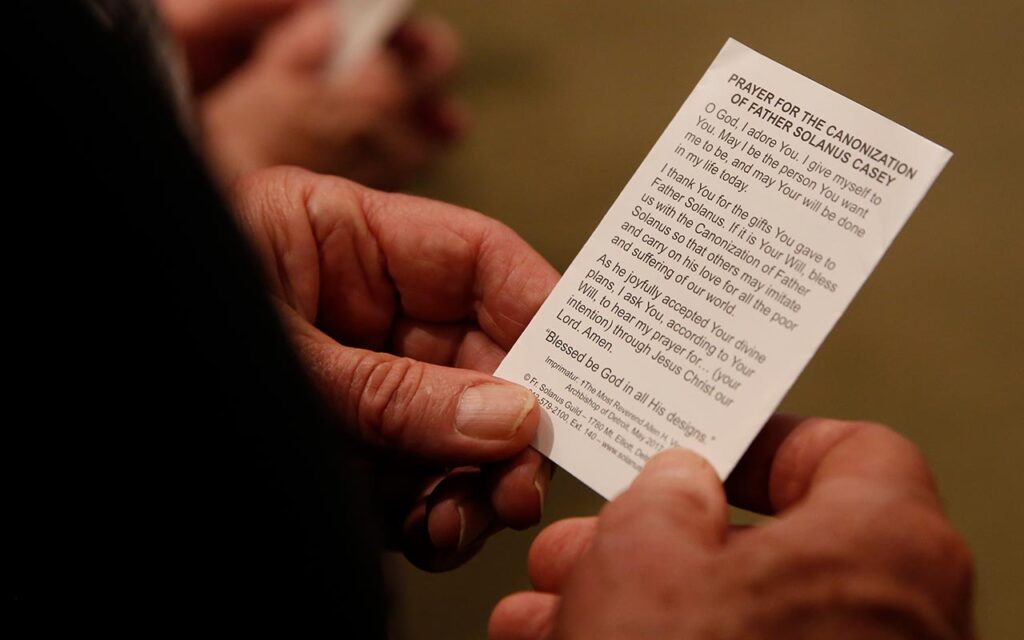 Canonization Prayer
O God, I adore You. I give myself to You. May I be the person You want me to be, and May Your will be done in my life today.
I thank You for the gifts You gave Father Solanus. If it is Your Will, bless us with the Canonization of Father Solanus so that others may imitate and carry on his love for all the poor and suffering of our world.
As he joyfully accepted Your divine plans, I ask You, according to Your Will, to hear my prayer for… (your intention) through Jesus Christ our Lord. Amen.
"Blessed be God in all His Designs."
Imprimatur:
The Most Reverend Allen H. Vigneron, Archbishop of Detroit
May 2017
عربى  |  Nederlands  |  English  |  Filipino  |  Vlaams  |  Français  |  Gaelach  |  Deutsch
  Italiano  |  한국인 |  Polski  |  Português  |  Español  |  தமிழ்  |  Tiếng Việt
Interested in becoming a Capuchin?
Capuchins give priority in their ministries to the two loves of St. Francis' life:
Serving our sisters and brothers in challenging circumstances, and preaching the Gospel.
About Capuchin Vocations